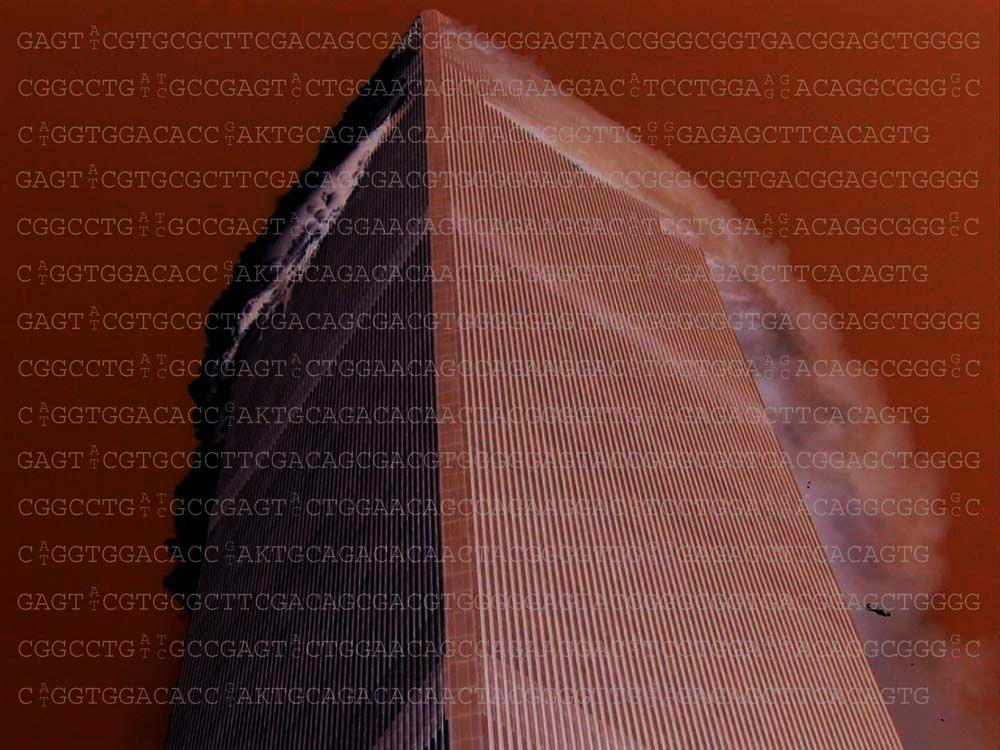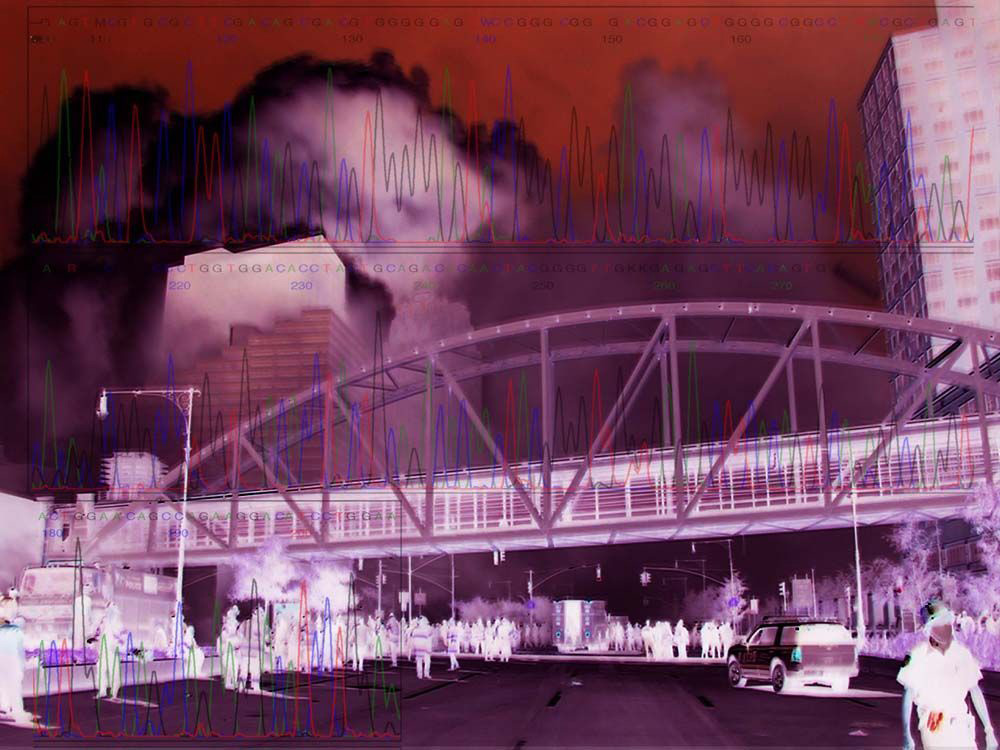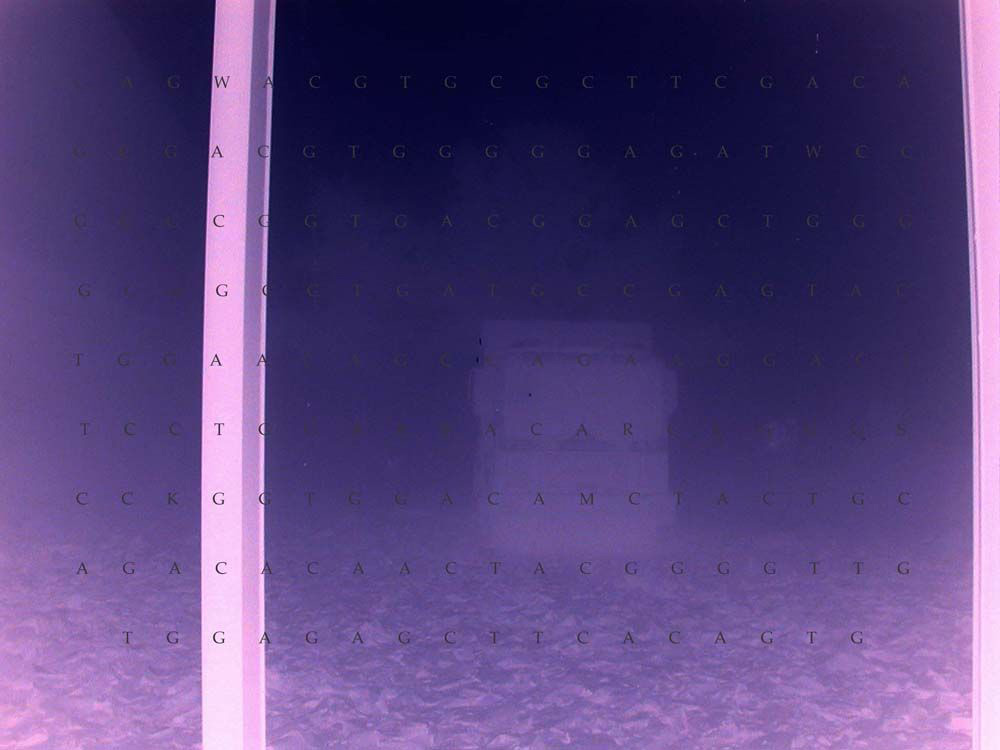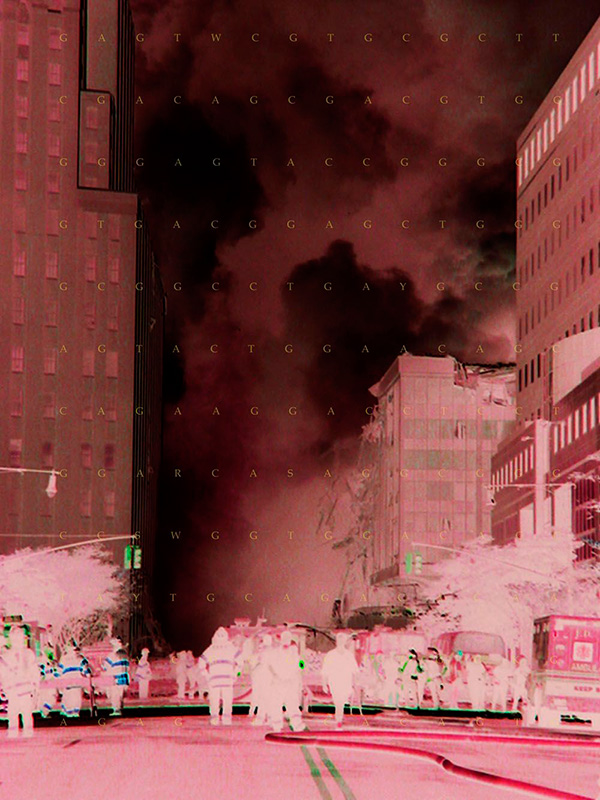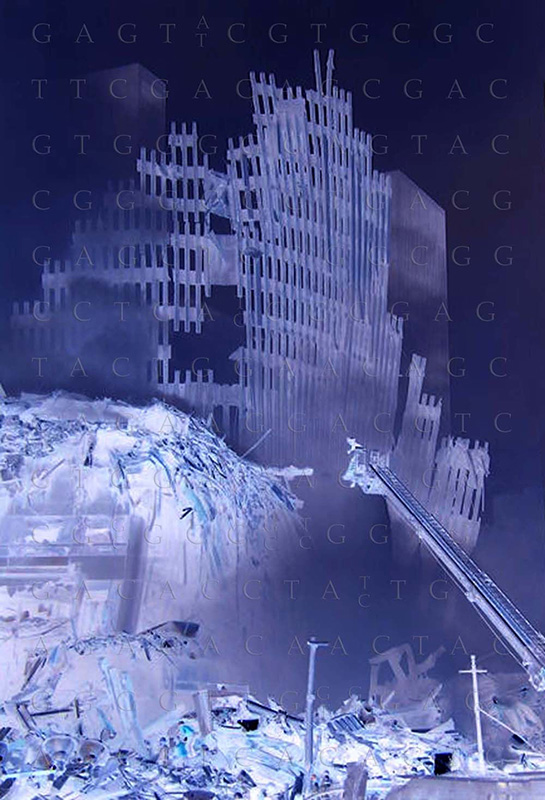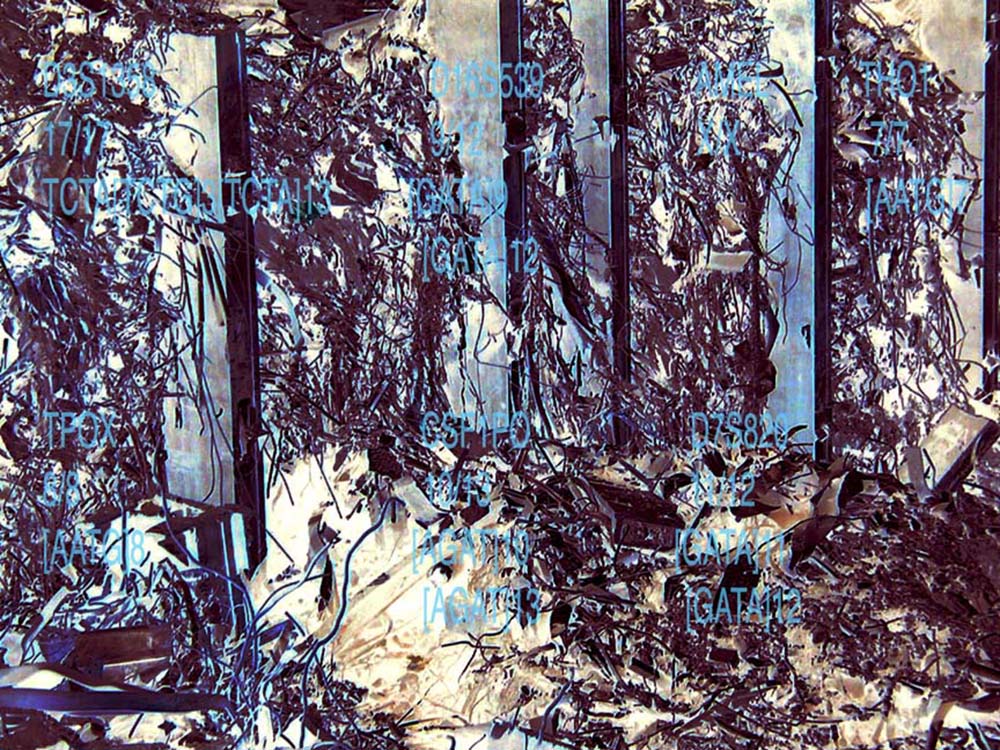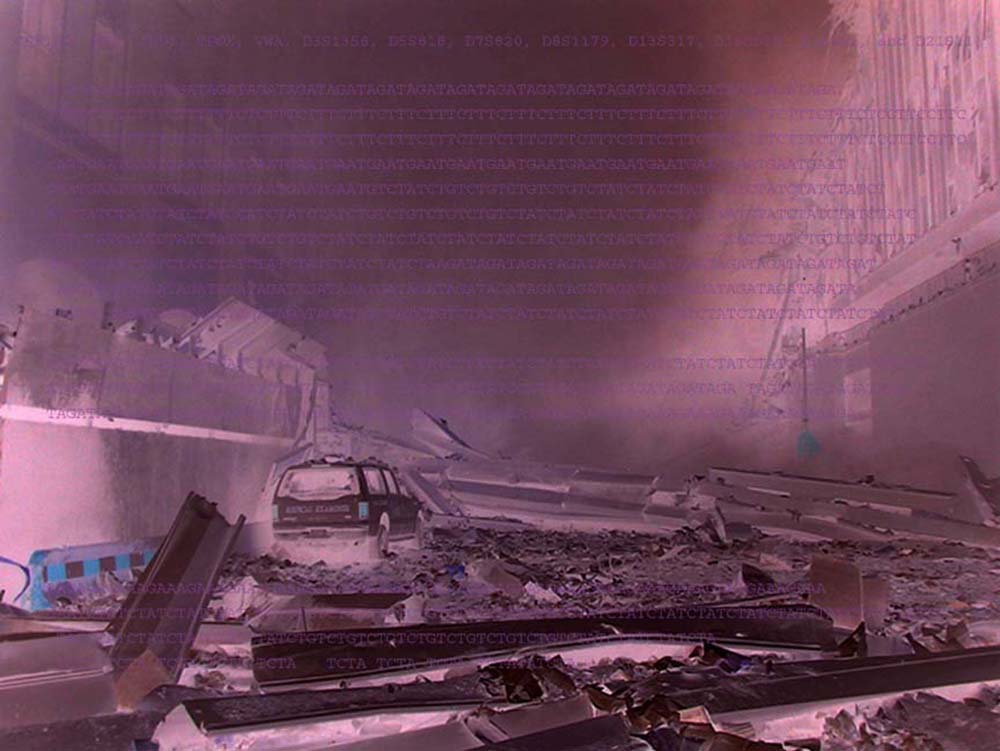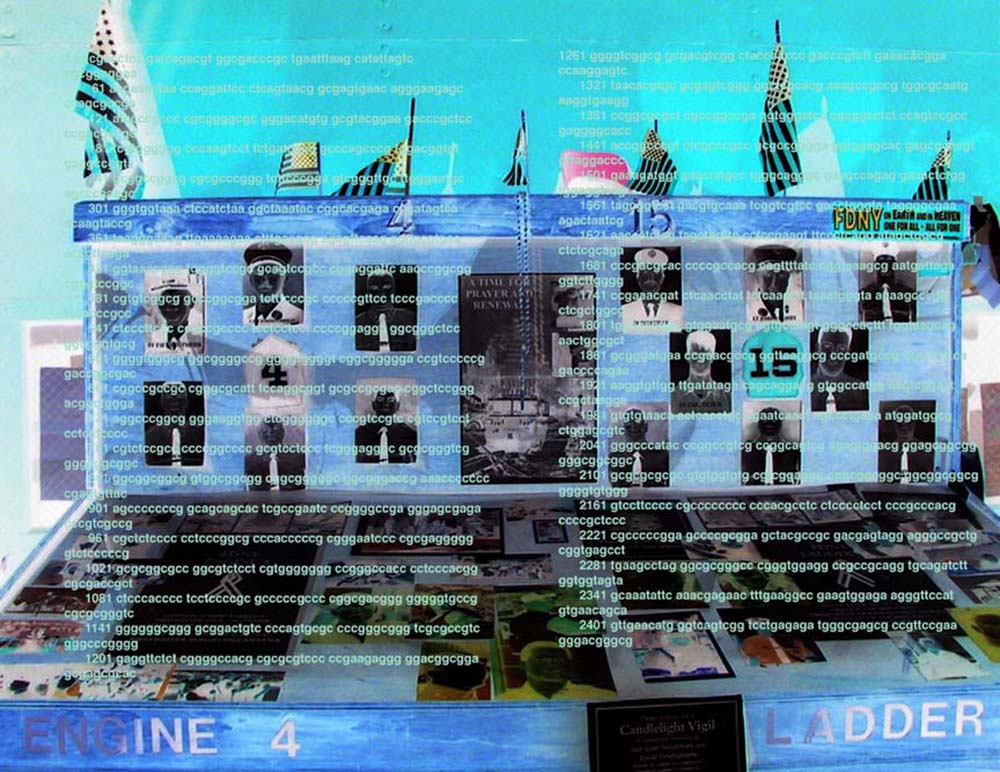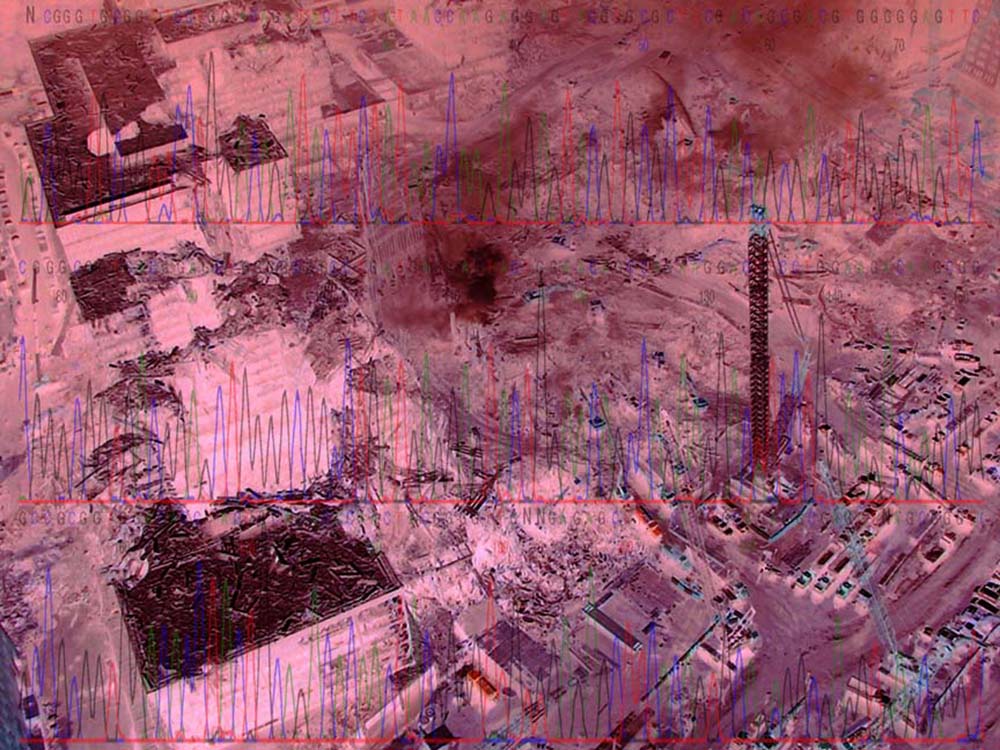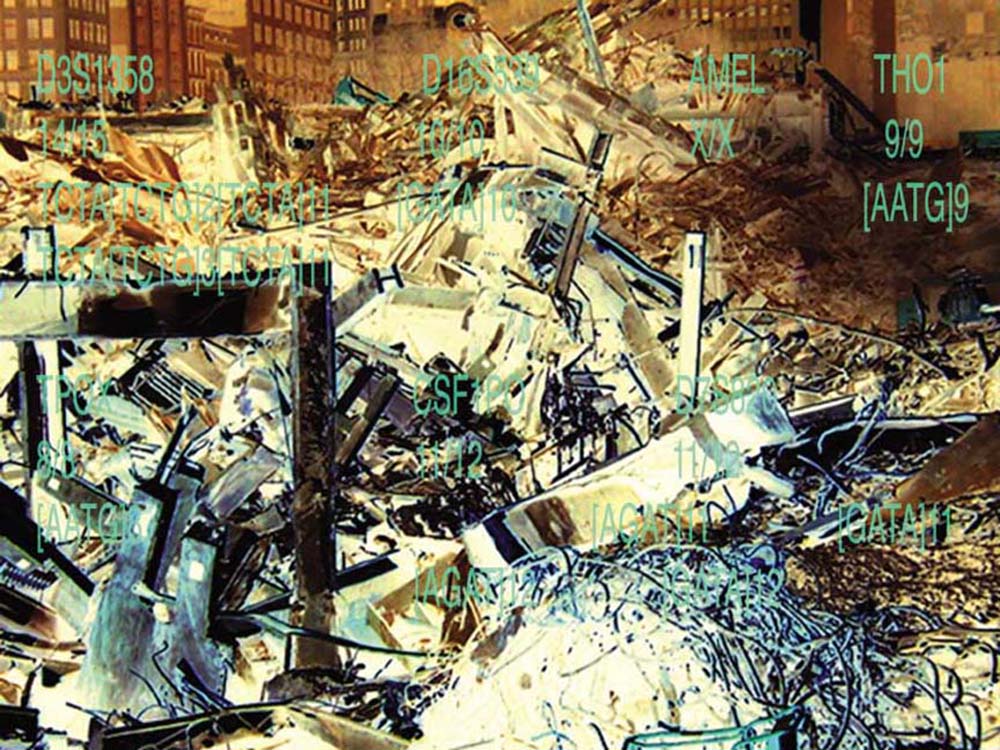 Dust to DNA: Kevin Clarke and Mikey Flowers 9/11
On the morning of September 11, 2001, a florist and volunteer Emergency Medical Technician named Mikey Flowers grabbed his digital camera and ran the few blocks from his store to the World Trade Center after the first plane hit the north tower. That day he helped people who escaped the towers, tended to the injured, and then ran for his life when the south tower collapsed. When he was able he took pictures of the stupefying chaotic scene. The images that Flowers took became the basis of collaboration with the artist Kevin Clarke, whose studio was also near the WTC. Dust to DNA: Kevin Clarke and Mikey Flowers 9/11, the result of their endeavor, will be shown for the first time at the International Center of Photography from June 28 through September 1, 2002. It is the third exhibition in the series Imaging the Future: The Intersection of Science, Technology, and Photography and is curated by Carol Squiers.
Since 1987, Clarke has been making unique portraits combining photographic images and his subjects' DNA sequences. His usual method is to get to know the person and then to spend weeks or even months looking for an object or scene in which he "recognizes" the individual. He then photographs it, digitally manipulates the color and image, and overlays it with the subject's genetic code, which is sequenced by a laboratory from blood donated by the subject.
For this collaboration, Clarke used Flowers' images of 9/11 and its aftermath for portraits of people who survived the attacks or who were involved in the rescue effort.   A view of smoke billowing from the ruins behind a group of firefighters is overlaid with the DNA sequence of 13-year-old Ty Fujimora, who was evacuated from a school near the towers; another of the smoldering remains is paired with the genetic code of firefighter Dennis Grady; a third, which shows the south tower soon after it was hit, is covered with Flowers' DNA code. Among the other subjects represented in the project are Port Authority police officer Tom Kennedy, Police Detective Roger Parrino, Sr., and rescue volunteers Amy Wallin and Tony B. The resulting pieces are poignant tributes to the people who lost their lives and to those who tried to find survivors. A selection of Mikey Flowers' photographs will also be shown.
A publication by Kevin Clarke, Mikey Flowers 9/11, Ashes to Ashes, Dust to DNA (2002), will accompany the exhibition.
Kevin Clarke was born in New York in 1953 and studied with Hans Haacke at The Cooper Union, where he received a B.F.A. in sculpture in 1976. His work has been widely exhibited in the U.S. and abroad.
Note: The exhibition consists of 17 30×40" chromogenic prints mounted on acrylic panels and 15 8×10" framed color prints.