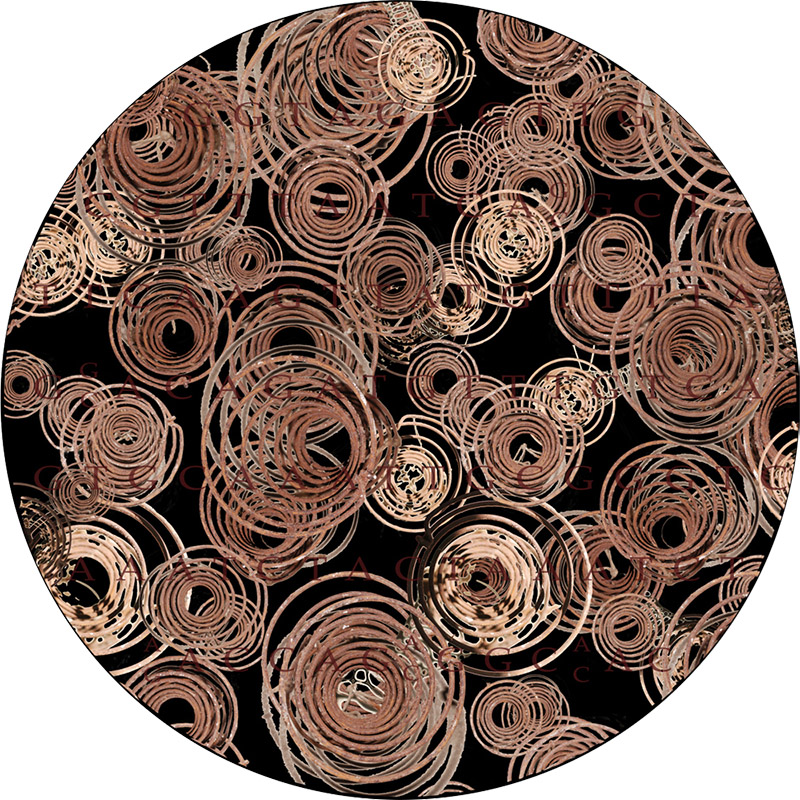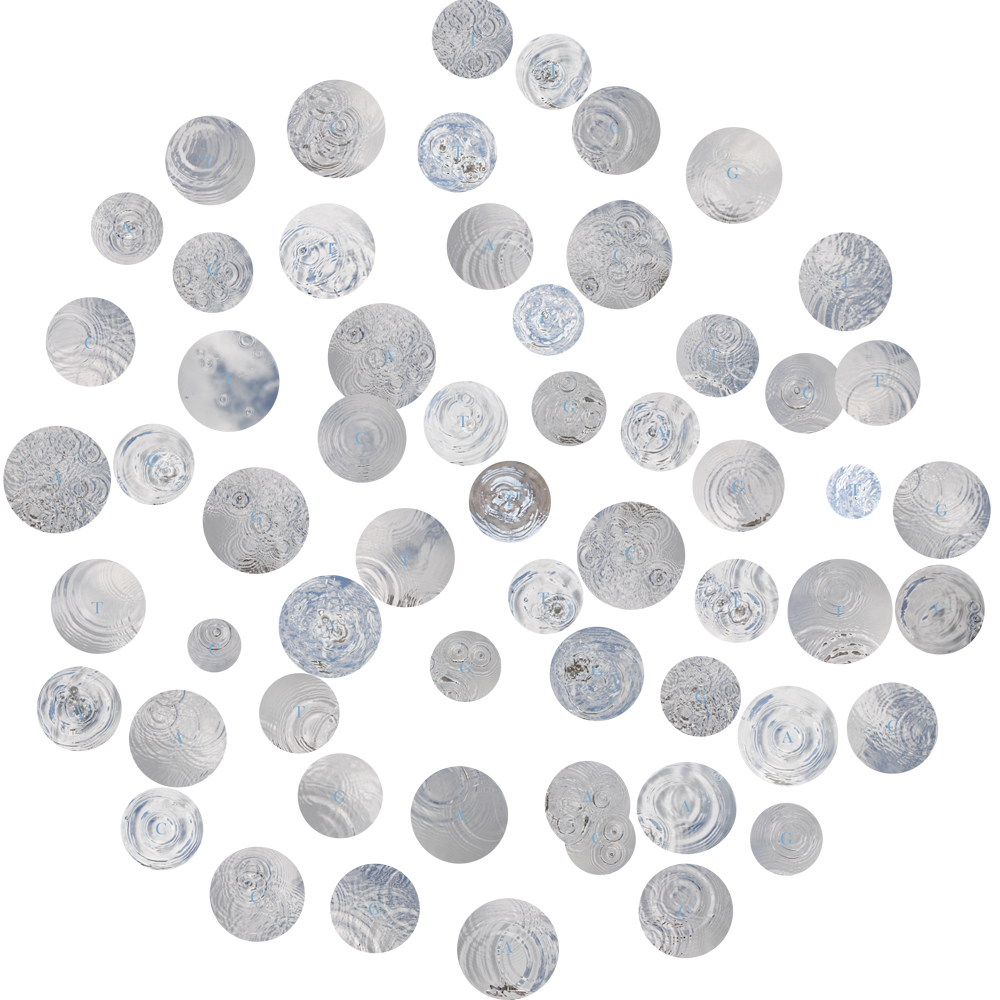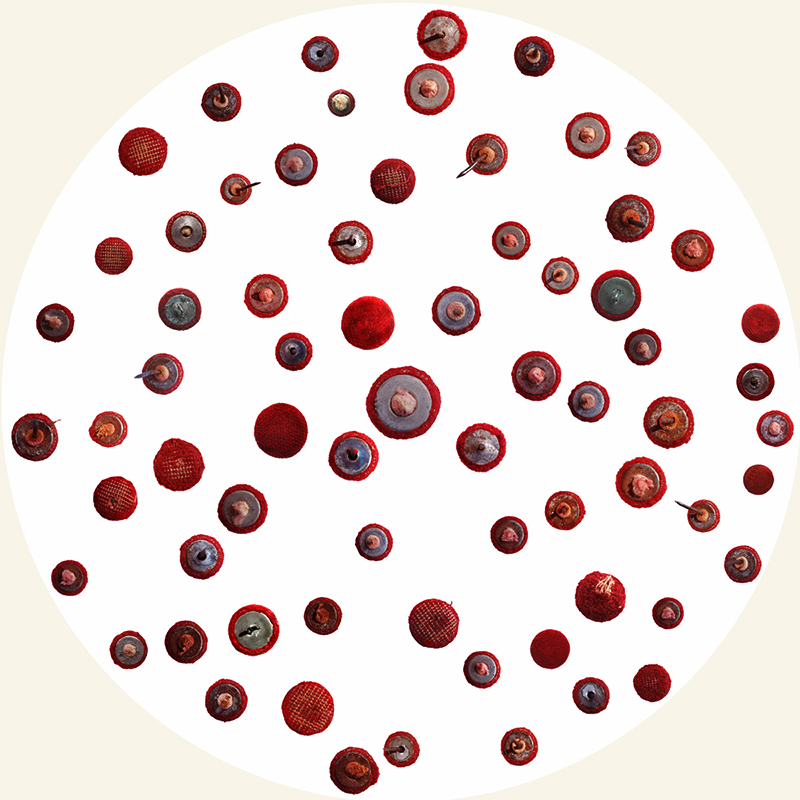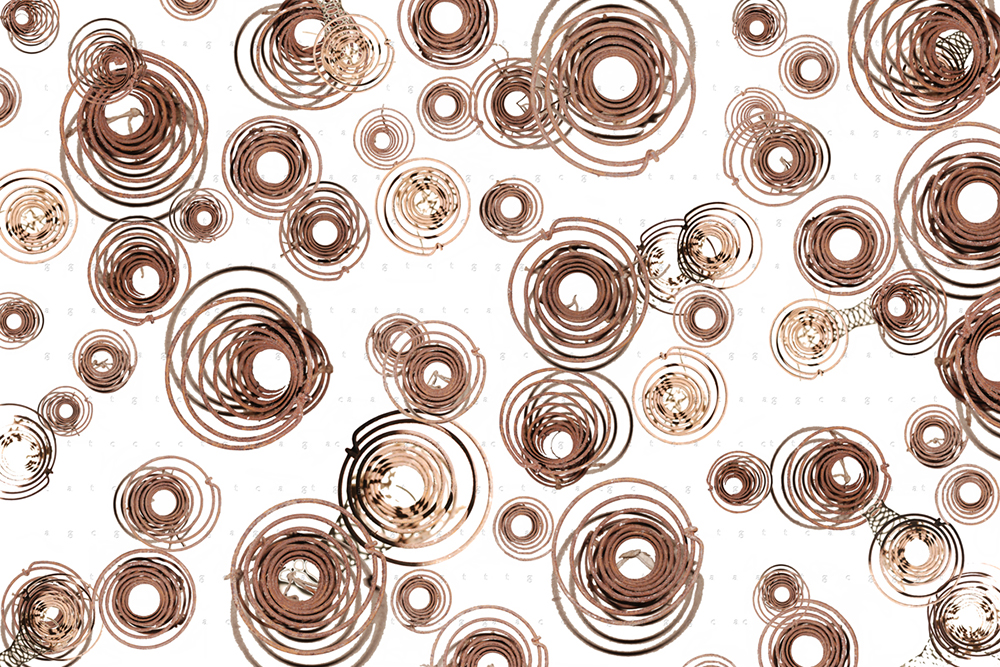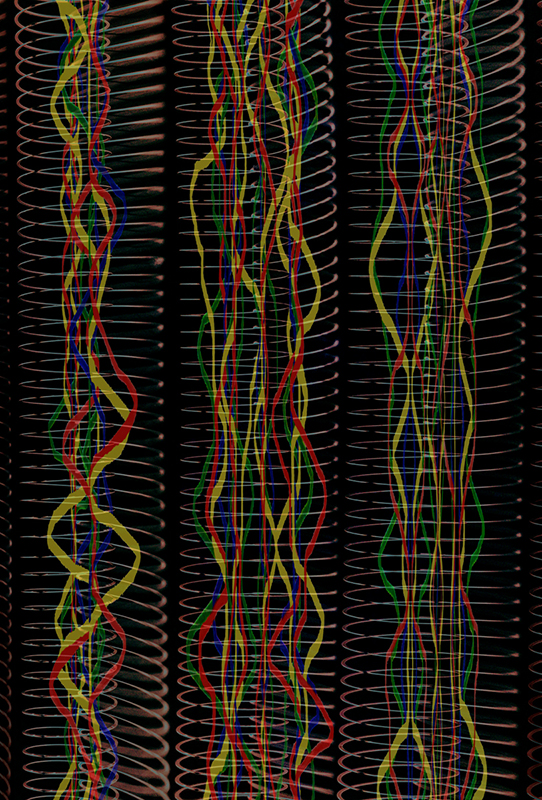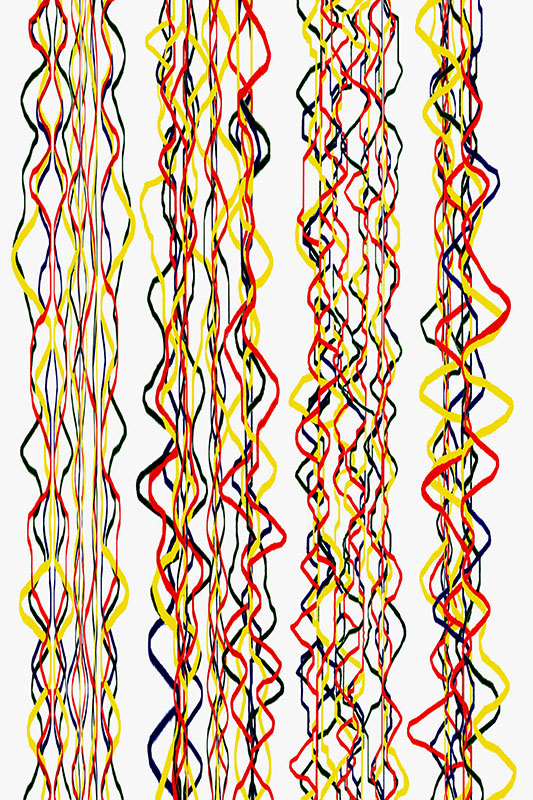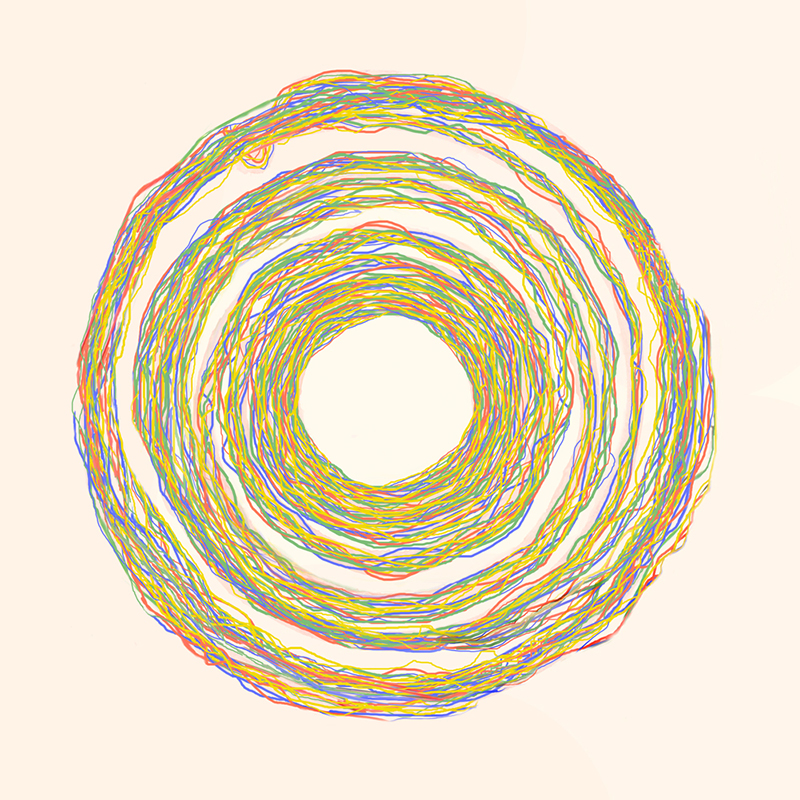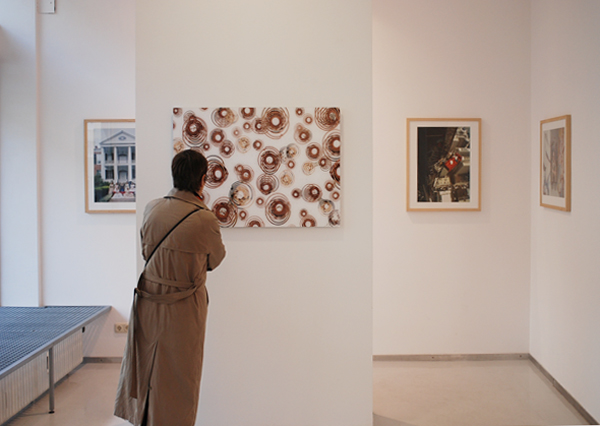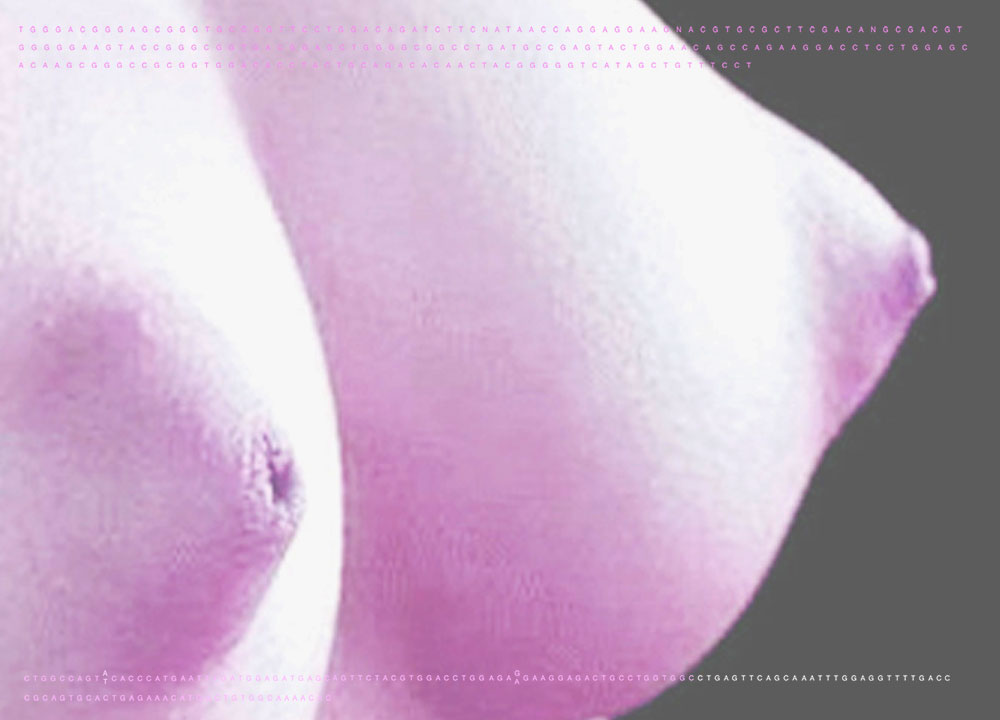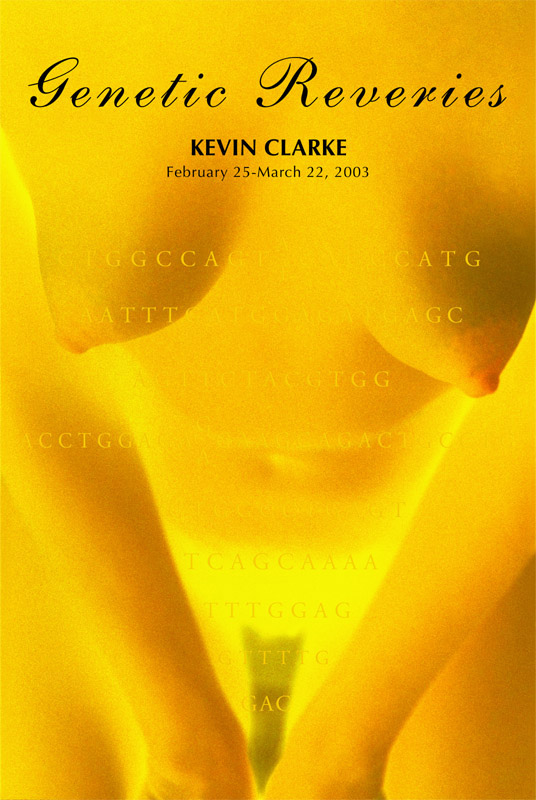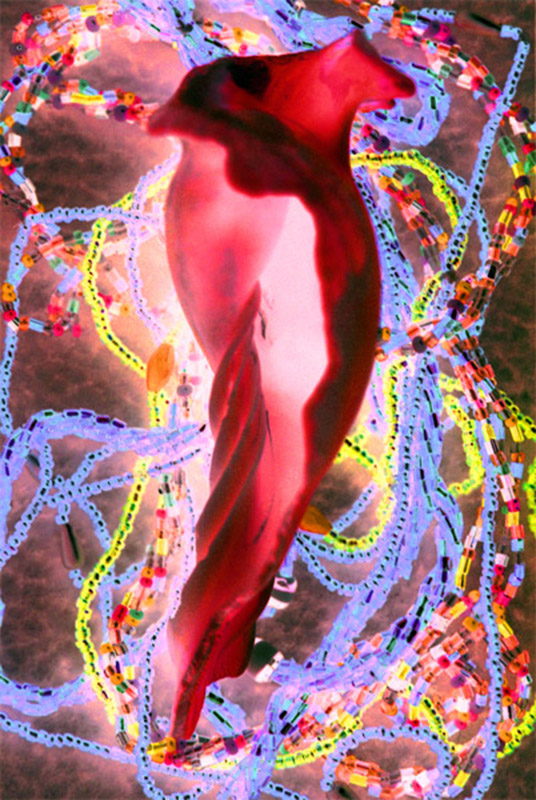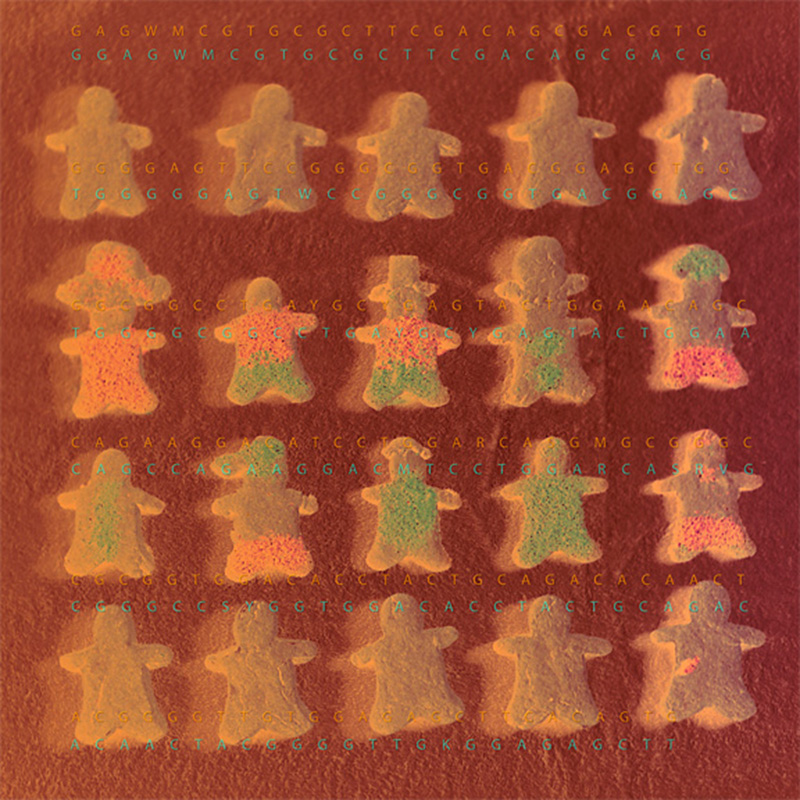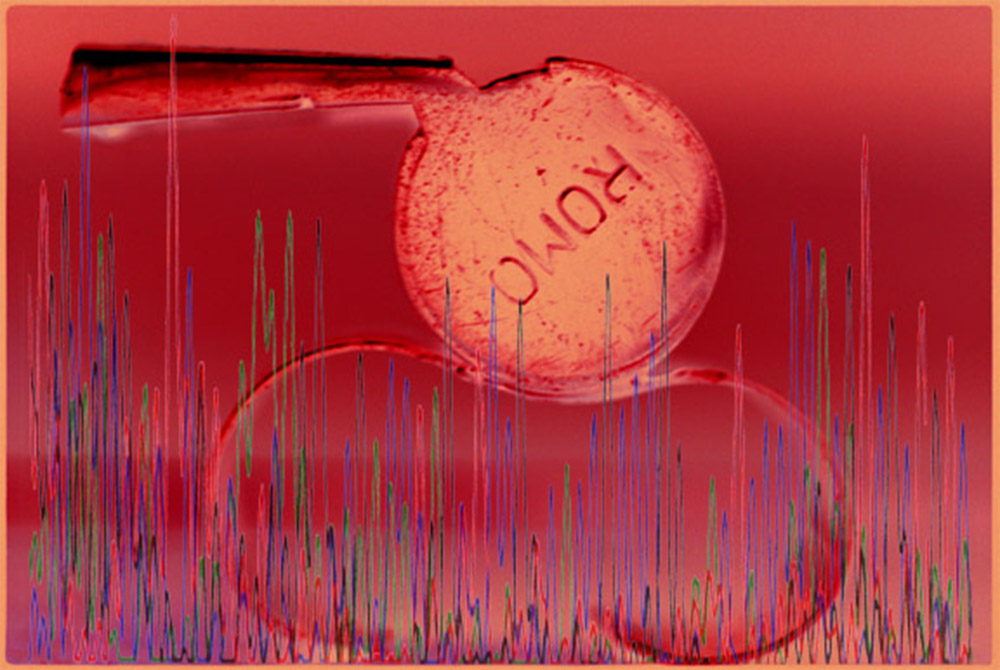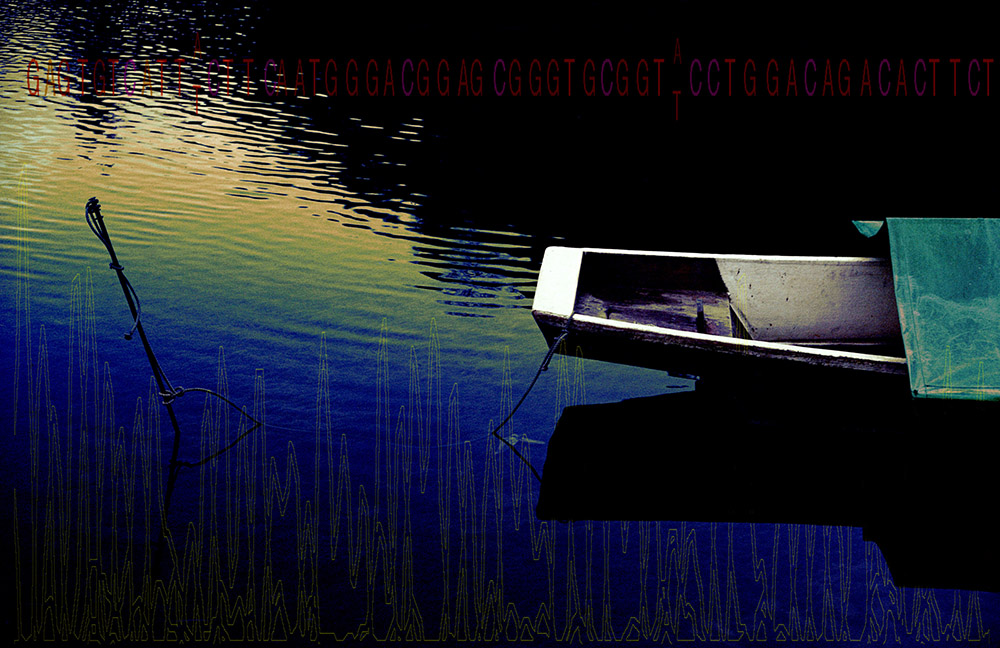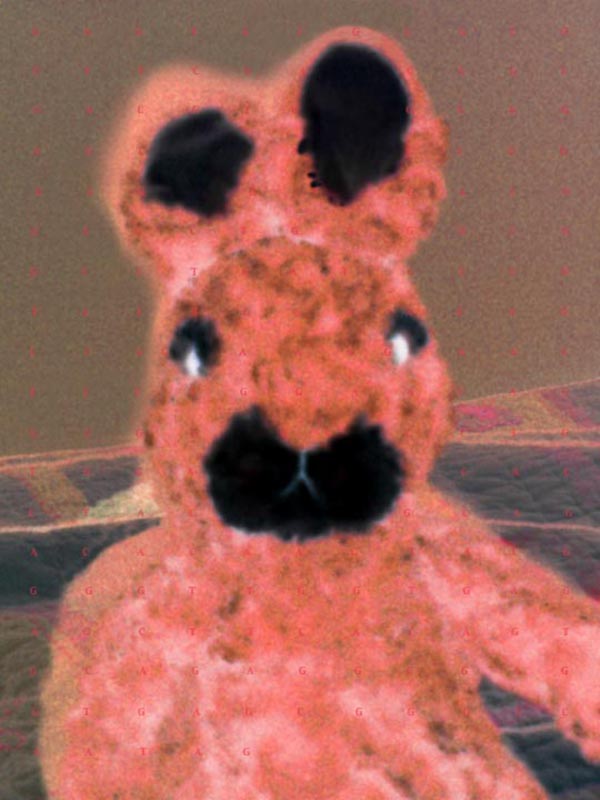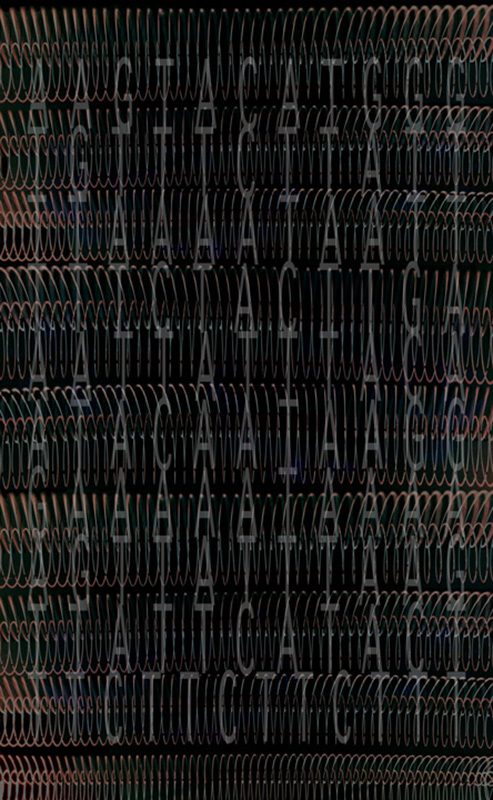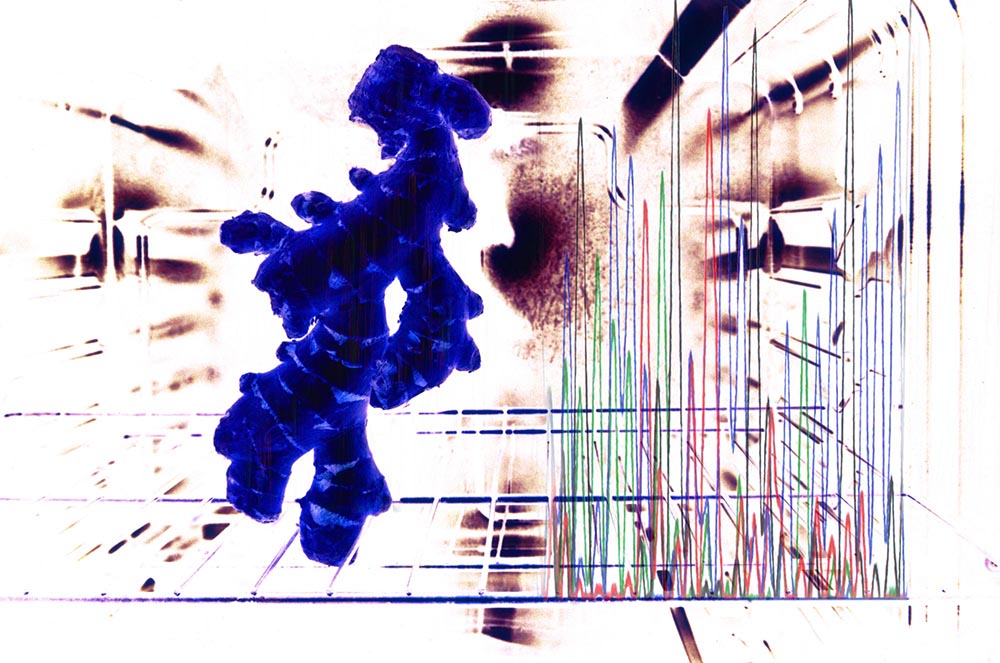 2005 — 2015
2008:
New Circles
NewCircles is a series of new digital works on watercolor paper exploring personal changes in state, form, location, and relationships. Circular forms were chosen and photographed then composed with an eye to placing the individual detailed images within specific proximities.
Using circular materials such as logs, springs, buttons from a red couch, slinkys, spirals, and helical DNA sequences memories of people close to the artist are fathomed anew. Studies leading to this series, New Close 2007and Schwesinger Family Portrait 2006 are comprised of curvilinear vertical Sequences. The spiraling set of slinky toys cycling about Chuck Close's DNA frames Close's upwardly coiling DNA in a composition that is derived from the Schwesinger commission.
19th Century bedsprings were photographed from above and consummate as objects, shadows, and traces in NewCircles for J & J. DNA from my late wife, Janet Hasper and from my dearly departed friend, the celebrated photographer Jacques Lowe cavort and interconnect in a way that fantasies sometimes do.
Velvet upholstery buttons from a red couch that Janet Hasper sewed to create The Apotheosis of the Couch, 1989 are collected and photographed from front and behind in a celebration of Janet's frisky sensuousness in NewCircles for J & K.
NewCircles for Jacques features the DNA of Jacques Lowe and a black background.
A variety of log ends created by cutting wood with a chain saw, which is also a circular saw, ostracizes nature as a parade of randomly sliced circular objects in a meditation on the friendship I have had with the great collector of Surrealist art and painter, William N. Copley (cply). NewCircles for cply, 2008.
NewCircles for NN, 2008. Drops of water hitting the surface of a cauldron were chosen for this playful watery meditation.
The objects within these circles are in communication with one another. Clarke perceives the interplay of the circular forms as personalities interacting as people do, shifting their proximities to one another, distancing or becoming more intimate. The objects are of this world, but their digitized form transforms them to an archetypal function where they hover between states of being and degrees of nearness. Naturally, this brings us to reflections on temporal and physical change, life, passage, and love.
2003:
Genetic Reveries
This exhibition assembles Clarke's most recent works on portraiture and genetics, especially sexuality and heredity. The images reference individuals in the artists' life, including his mother, two sons, and several friends – collector Uschi Lahl, poet Constantine Kuzminsky, and homeless bookseller Dale Paige. What connects these images is their focus on the structures of personal relationships. At times, these structures are deep, relating to DNA and heredity. At other times, they operate socially in relation to the links forged between people. Clarke is connected to the individuals portrayed in these works. He is drawn to the St. Petersburg poet and archivist Kuzminsky's radically creative energy, magnetic mind, and mutual feeling of brotherhood. He admires Dale's observational powers and upbeat patience, despite his predicament and Uschi's fragility and commitment to art. In portraying his family as well as friends, the artist explores the nexus between individuals, their environments, and lived human experience.
From visual and aesthetic viewpoints, the photographs interweave genetic sequences, empirical scientific data, with the artist's interpretive and subjective portraits. For instance, Mother and Child shows the breasts of a woman, a deeply connoted subject referring to femininity and nourishment as well as eroticism and sexuality. As in his first DNA self-portrait, Clarke uses his own DNA, but this time combines it with his mother's genetic sequence. The pixellation of this image is a central aesthetic feature intending to refer to the clarity of focus depending on bothproximity and distance when regarding breasts intimately.
In Not Clones the artist uses the genetic sequences of his two sons and underlies them with twenty gingerbread men, made with a cookie cutter, lined up one after the other. The work addresses cloning, a subject that is both topical and explosive. His images, however, do not allude to horrific visions of a futuristic family album. They evade the deliberate projections and emanations of such technology and its potentially nefarious consequences. Rather, by referencing childhood and ist tenderness, the artist points to multiple questions and issues often overlooked in discussions of cloning itself: psychological and emotional issues, sexual desire, core familial relationships and their individual and social dimensions. It is within these gray areas that Kevin Clarke's dialogic constellations reveal their critical, but deeply sensitive human dimension.
This portrait series particularly demonstrates the challenges implicit in portrayal and representation. The artist has chosen not to reduce the identity of the sitter to physiognomy or form alone. He has turned away from photography's alleged function as a tool for reproducing an observable image or scene. Rather, he emphasizes photography's descriptive and poetic capabilities. For him, representation does not seek to reproduce reality as much as it can suggest the visual contours of individual identity. In fact, Clarke dispenses entirely with the literal presence of the sitter in order to discover his or her individuality beyond the visible.
What also connects these portraits is the apparently universal syntax of DNA sequencing and the supposedly objective quality of photography as well as a deeply personal approach which opens up the portraits in terms of a context for deliberately subjective and associative inferences. As with his earliest work in DNA portraiture, the portraits are usually the outcome of many encounters between the artist and the sitter. One could describe the genesis of each single work as the result of both a dialogical and dialectical constellation between the artist and his work, the sitter and his or her personality, and the objective and subjective codes of their signifiers. The codes clash harshly, even though the artist undermines possible attributions to a common sense of photographic reality from the very beginning. Clarke writes, "Through an inversion process which informs my work, positive pictures become like negatives, the invisible is made visible through the genetic code, and the negative image is developed on positive paper, all of which are inversions of the common approach to photography." It would be misleading to read this inversion as impacting only medium and technique. Above all, this process deals with attributes and their depiction as well as the myth of objective representation.
— Ralf Christofori
2013:
Letter to the Kurt Schwitters archive, Hanover:
FroMMage à SchwiTTers
 I propose to do a happening and short film in the memory of the late artist Kurt Schwitters (born Hanover, 1887-1948). Schwitters has been one of my favorite artists since encountering his work as a young lad at The Museum of Modern Art in New York during field trips organized by my school.
My interest was further piqued when I was shown private letters he had sent to the Wiesbaden collector Kirchhoff in 1925. I borrowed a postcard from the private collection of Ute and Michael Berger and sent it to the Berlin genetics lab LGC Genomics to have the DNA on the back of the stamp analyzed and sequenced. Alas, there was no trace of Mr. Schwitters DNA on the stamp. I have previously created homage pieces using DNA from Friedrich Schiller, John Cage, and Joseph Beuys. I seek a piece from an archive that has had correspondence with Schwitters that has a postage stamp that he may have licked. The lab in Berlin can isolate the DNA without disturbing the original in any way.
I have been integrating DNA sequences in my portraits since helping to create the first automated DNA sequence with a team of Nobel Prize winners in 1988. My own DNA is the first ever sequenced automatically using PCR, the global standard today.
I generally combine the specific DNA of my portrait subject with an image I create with the person in mind. As in 15th Century Chinese painting, my portraits combine a metaphor with calligraphy. Of the nearly one hundred portraits I have done since then, artists including John Cage, Merce Cunningham, Joseph Beuys, Jeff Koons, Nam June Paik, and others have actively supported the project several of them having given blood to do so.
I propose to create a happening, a Frommage à Schwitters. I find that the typical homage to a great master falls short when the younger artist takes the process too literally or without humor. I think of so many failed homage à Picasso pieces and cringe.
So I plan to create a large collage of cheeses that would correspond through code to Schwitters' DNA. A collage d'hommage de frommage à Schwitters. I plan to do this with the great Frommager, Xavier de Toulouse in the southwest of France. Independent filmmaker Sanjin Jukic of Vienna will film the piece for a profile on the French-German channel Arte. I propose to re-enact the piece at an exhibition planned for 2014 at the Museum Wiesbaden and possibly in another appropriate venue.
If your archive has a postage stamp that would probably have been licked by Kurt Schwitters, I would appreciate opening a dialog about using it to create this piece.
note: I subsequently rented two envelopes from the archive. The stamps and enclosure were licked by Schwitters in the 1950's. His DNA was sequenced at LGC Genomics, Berlin by Dr. Sabine Oberkamp. The project is in full swing. I am also working on a portrait of Dieter Rot.